Regardless of so many other projects that we have participated in and contributed over the years, the regulation and launch of the NATIONAL IDENTITY CARD – CIN, is our great achievement. The closure of a cycle.
Today, we have architected a complex and efficient IDENTIFICATION SYSTEM. These are new cycles and challenges ahead. We now need to consolidate all the necessary integration, and make all the Federation Units issue, from March 6, 2023, the CIN definitively.
It's time to consolidate the CIN. Show it to Brazil and the world. That's what we're doing, and I'm asking for your help in further disclosing our Legitimate Identity Card.
But now, it's time to show you what we've done. Time to say thank you.
Since 1996, I have personally pursued this goal. There were 7 governments, 5 Presidents of the Republic. Countless were the challenges. Success and frustration. But above all, the conviction that this was a good and necessary purpose. It was something to believe and fight for. This wasn't just any project. It wasn't a political project, it was a state project.
After just over 10 years engaged in this theme, the need arose to strengthen this struggle. That's when we idealized and founded ABRID. 15 years ago, there was still no talk like today, in digital identity. But in 2007 we created the Brazilian Association of Technology Companies in DIGITAL IDENTIFICATION. And our objectives and mission were expressed in our Statute – "The integration of associates with each other, with the market and in relations with the government, at the municipal, state and federal levels".
As I said, since then we have had many moments of frustration and success. But we never stopped working. The success now achieved has one big factor: confidence. Industry confidence in our leadership. Government trust in our conduct. I then begin to thank the Brazilian government, those who have truly committed and worked on each of the mandates they have exercised. As I quoted is a state project, and as such survived even against attacks from those who did not want an unequivocal and secure identity.
In this long period, the shape and name of the identity project have changed. But not your purposes.
Some of the dozens of companies that have legitimately contributed to this process have also changed their names. Some merged with others, some left. But all of these that we have had the privilege of working in these years deserve our respect and thanks. They participated in Working Groups, technical groups of the most varied. They gave direct, legitimate and transparent support to the Official Identification Bodies of the Federation Units and the Federal Government in several of their institutions. We have made Technical Cooperation Agreements with various agencies. They participated in Technical Groups at the invitation of the government. And always, in a respectful and collective way, these companies collaborate aiming at the realization of this project. Our current associates are responsible for something around 90% of the identity documents issued in the world and, more than that, in Brazil. This means that in almost every official identity document circulating in the world, it has some component of our associates in its manufacturing and issuance stages.
In Brazil, these companies contributed and contributed directly to the construction of this new Identification System. We are proud to receive frequently the thanks and recognition of government institutions on the effective collaboration that these companies have been providing.
And for this, my text in allusion to abrid's 15 years at the service of Brazil brings mainly thanks to each company in the brazilian identification industry, which is or has been our associate, for having participated in the construction of our Identification System and our National Identity Card – CIN.
Thank you to each of you, and together with me tell CIN to the true and legitimate Identity Card of Brazil.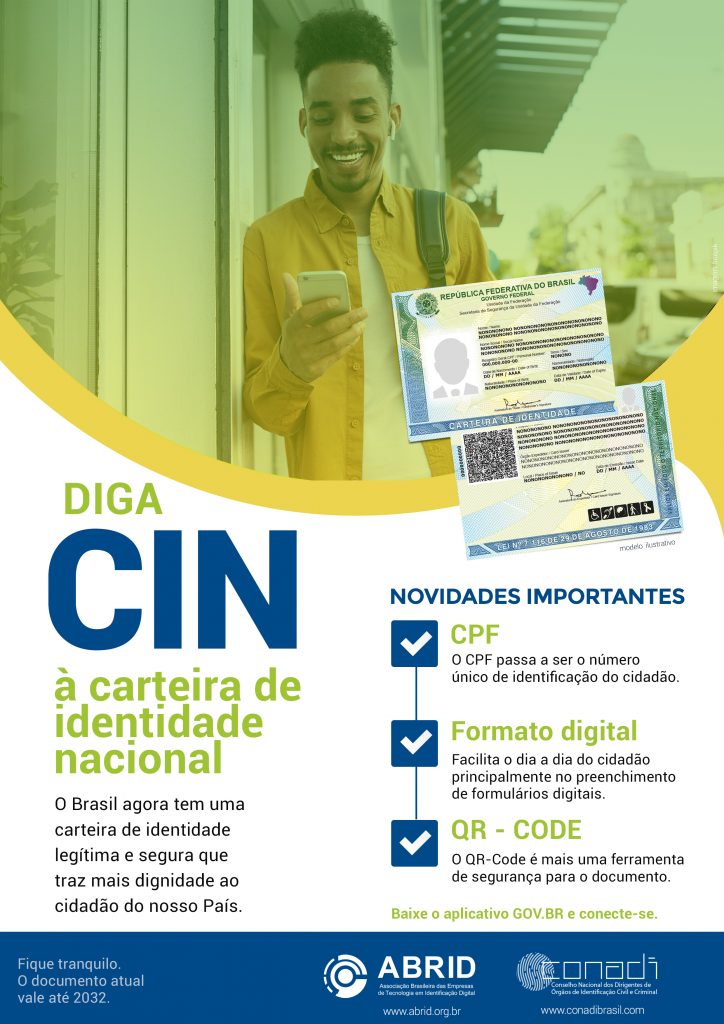 COMPANIES THAT HAVE PARTICIPATED WITH US OVER THESE 15 YEARS:
3M OF BRAZIL . 3P BRAZIL . AMERICAN BANK NOTE . AET EUROPE . AKIYAMA , ANDRADE GUTIERREZ ( ANTHEUS. Mr. ARJOWIGGINS. BAYER. BIOLOGICAL SYSTEMS . BLENDPAPER . .BMP. GOOD VIEW. MINT OF BRAZIL . CERTISIGN . CODE CIPHERS OF BRAZIL . Cogent. CR CONSULTING . DATACARD GROUP . DCOLAR . Dermalog . ALTEROSA PUBLISHING HOUSE . ENTRUST DATACARD . ENTRUST. Fingertech. Burti GD . GEMALTO . GREEN BIT . HID. HOLOGRAM INDUSTRIES . IAFIS . ICE SPECIAL CARDS . IDEMIA . OFFICIAL PRESS OF THE STATE OF SÃO PAULO . IN GROUP . INDRA OF BRAZIL . INFINEON TECHNOLOGIES . Intelcav , Ixla ( Ixla . JDSU . KINEGRAM . LASERCARD . Luminochem . MAGIC CONTROL . MAKO. MONTREAL COMPUTER SCIENCE . NEC BRAZIL . NXP SEMICONDUCTORS . OBERTHUR TECHNOLOGIES . OT – MORPHO . OVD KINEGRAM . PRINTLASER CARDS . RD2BUZZ . REGULA FORENSICS . RFCOMID . SABIC . SAFRAN MORPHO . SAGEM ORGA . SECOM OF BRAZIL . Serasa EXPERIAN . Sicpa . Smartrac , Soluti ( Sonsun . ST. Surys . TASK , TASK, TASK. BPO TCI . TECH 5th . THALES. THOMAS GREG & SONS . Trub . valid . VALID DIGITAL CERTIFIATOR . VISIE GROUP . VISION BOX. VSOFT . ZEBRA TECHNOLOGIE